Their Story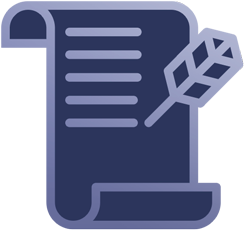 Hi. I'm Cheri Campbell. I was recently enrolled in Samaritan by the Health...
and Wellness, my doctor's medical group. For most of my life I've lived what you would consider a normal life. My husband, Michael, and I owned a house in Studio City for over 20 years. After a series of disastrous events, with no family support or safety net, we lost our house to foreclosure and ended up in a cheap motel in Inglewood. That was in 2015. My husband died unexpectedly in April 2019. He went into the hospital with a sepsis infection and died of a blood clot to the heart 12 days later. We were each other's whole world. Never spent a day apart in over 30 yrs. Best friends and writing partners. Five months after Michael died, I ran out of money. The management company at the motel has let me stay here for free since then. I was diagnosed with bladder cancer in 2021 and the managers said they were praying for me and thought of me like family. To make a long story short, on Oct 10 without any prior warning, they posted a three day Notice to Evict on my door and stopped talking to me. At one point I had to get Adult Protective Services involved because they were trying to bully and scare me into leaving. The problem is I have nowhere to go. I have no family. All I have is an EBT card, $221 a month in GR money and an IHSS provider. I'm at risk of becoming homeless until I can get into Section 8 Seniors Housing. My next court date is Jan 9. I have an excellent attorney and paralegal through Legal Aid Foundation of LA. They are in the process of getting my birth certificate and marriage certificate which I lost when my storage unit in North Hollywood was auctioned off. Then I can start getting my social security benefits. I've lived on $221 a month for over a year so I'm pretty thrifty. The housekeepers at the motel have given me clothing, dishes and bedding. Last Christmas, the head of housekeeping bought me a Christmas tree and decorated it. My overall health has gone down from all the stress of the eviction. I was hospitalized less than two weeks ago. One of the things I want to use my Samaritan donations for is vitamins and some supplements. I was doing much better when I was taking them. I've had over 30 transfusions in the past year and been hospitalized a dozen times. I would be so grateful for any donations from the Samaritan community. I have several tangible goals for the New Year. Since I have bladder cancer and have almost died twice, I want to stay out of the hospital and feel better overall. A few of my doctors thought I would be dead by now but I'm actually doing a lot better than this time last year. I also want to move to a safer, nicer place, either a seniors apt or renting a room from someone as soon as my social security benefits start in February. I'm currently being evicted from where I've lived for almost 8 yrs. I also want to finish the memoir I've been writing and hope to publish it. I have no family but I enjoy writing, reading, watching movies and talking to friends who live back East. I also practice meditation and whatever yoga my health permits. Wishing all of you a blessed and joyful holiday season.
A one time gift will help Cheri get their basic needs taken care of while building towards bigger goals.
Instill steady hope and resources into Cheri as they meet with a counselor each month to advance their life.
Charge Summary…
Samaritan stipend…
Total charge…
get the app and join…
join
Cheri

's team!

We all need a support system. Joining someone's team lets you track their progress, receive updates from their care team, and contribute to life-changing outcomes.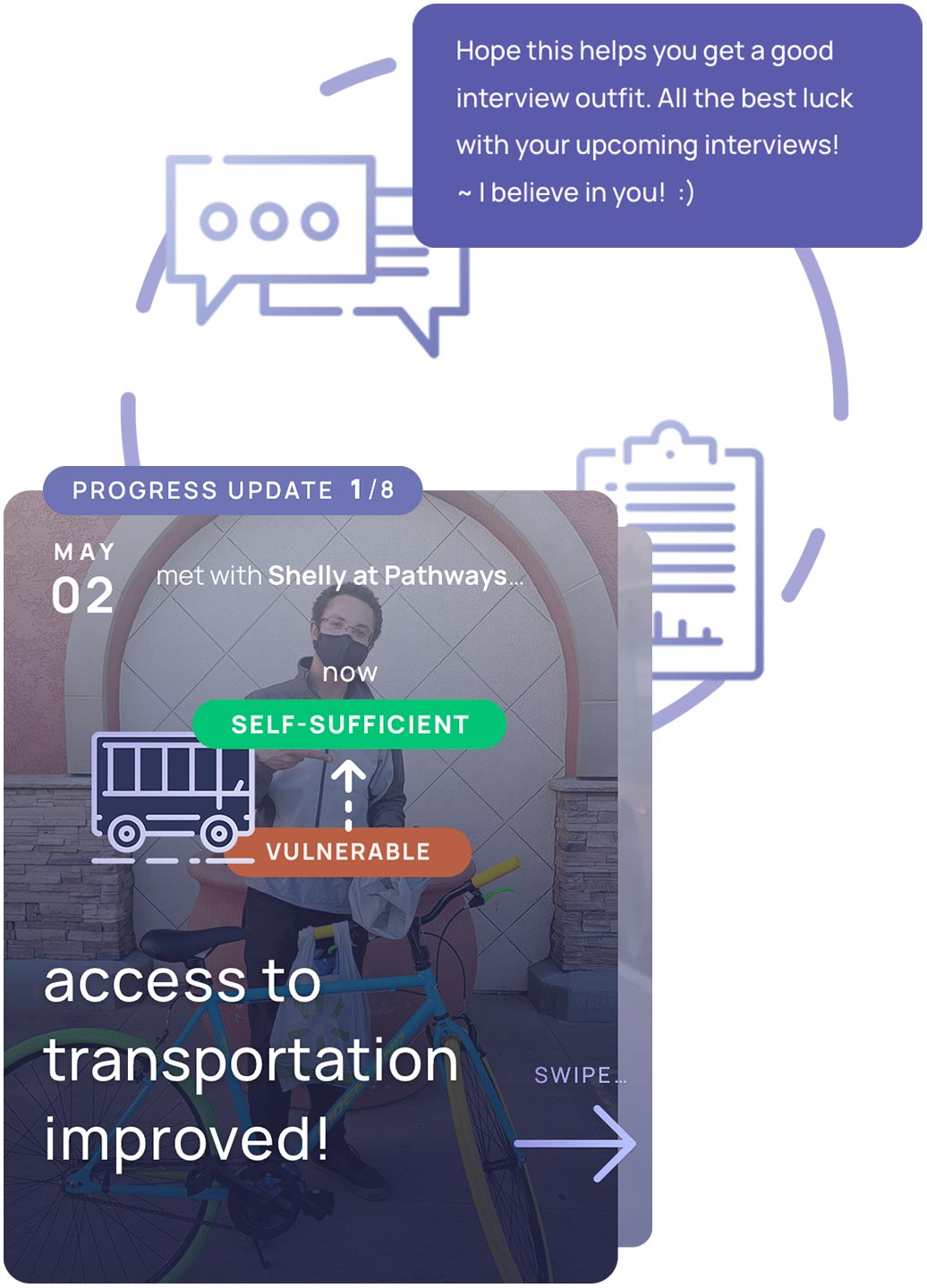 Maximize your impact by joining someone's team
We all need a support system. Joining someone's team lets you track their progress, receive updates from their care team, and contribute to life-changing outcomes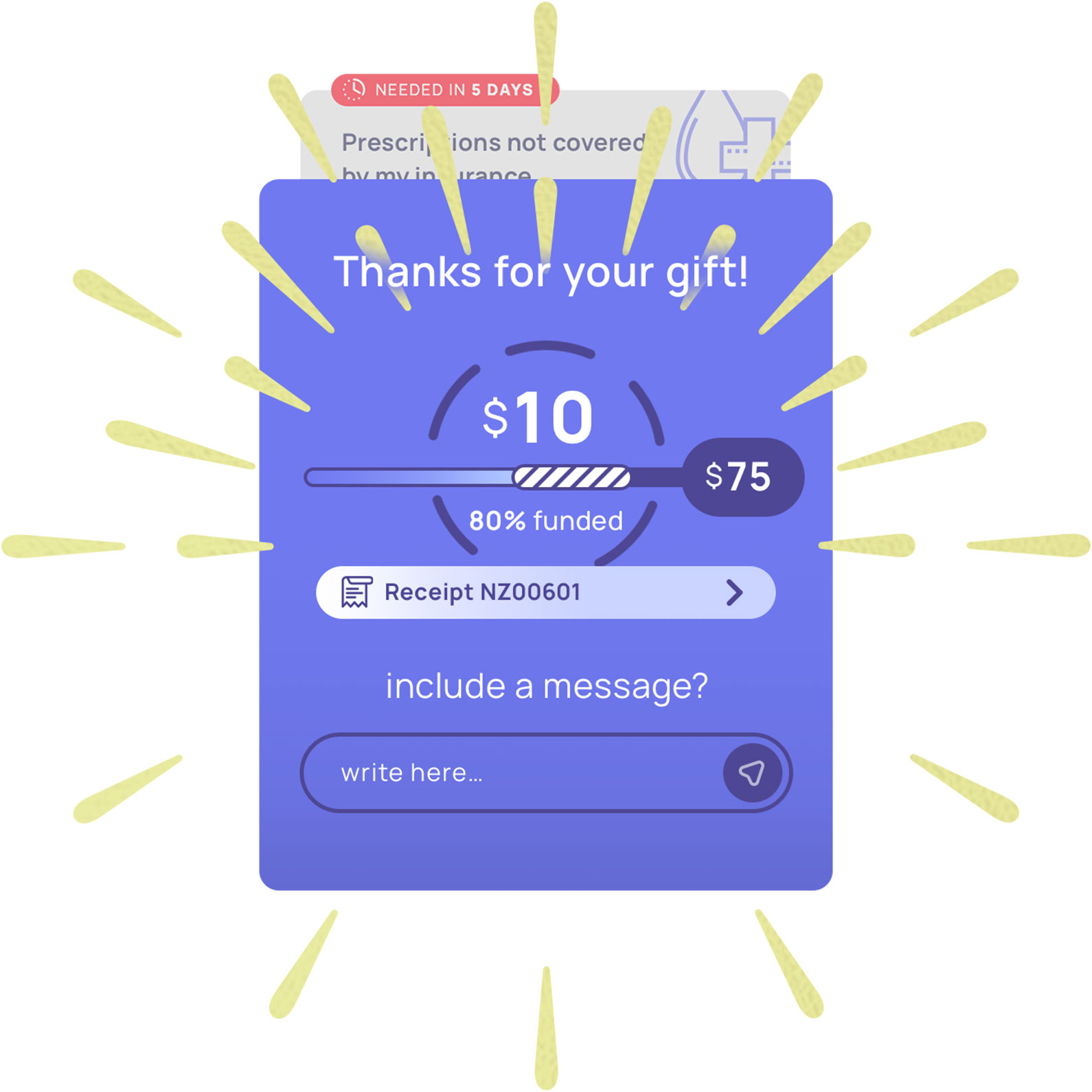 Help create life-changing outcomes with acts of kindness
Send messages of encouragement, contribute to emergent needs (such as food, clothing, and medication), and become part of someone's journey home
These are our neighbors
During this unprecented time, it's never been more important to help them find a safe, stable, supportive place to sleep at night.
We find that when we wrap a social home around someone, they gain the capacity to often find the physical home soon after.
You are invited to join one or many who seek to find a home this year.
Jeff Lilleyformer CEO, Seattle's Union Gospel Mission
The number one question I'm asked, is " Jeff, how do I respond when asked for help on the street? Samaritan is an answer to that question.
Nicole S.now-housed Samaritan Member
This is the first time in seven years people have seen me for who I am, not what I look like or come from.
I've been on the streets for 13 years. I've seen and heard everything. This probably has helped me more than anything else.
Laura L.now-housed Samaritan Member
Sometimes, you can feel really invisible and it can kind of feel al lot of times like there's no help out there. It was just nice to have people be like "Yea, we really want to help."